Many Latin America distributors were investigating moving their supply chains out of China before the COVID-19 pandemic. There were similar situations when Beijing prepared for the Olympic Games in 2008 and during the tornado-like disruption caused by China's environment protection actions beginning in 2017.
2020 is a Chinese Geng Zi Year, which occurs every 60 years. According to Yi Jing (Changes of Zhou), the Geng Zi Year will have a huge change of destiny. In 2020, the global agrochemical supply chain is suffering from the lock-down designed to control the pandemic. These changes have brought new challenges to global sourcing within the crop protection industry.
COVID-19 has had a big impact on cash flow. Social distancing has led to change in consumer demand. It started from the food value chain to impact agriculture backward. To date, field crops like soybean, corn, and wheat, haven't seen the impact as severely as the horticulture market. The loss of the fruit harvest stemming from COVID-19 will drive down agrochemical purchasing during 2021. According to a BCG survey, fresh product demand will be stronger compared to other crops post COVID-19. There is a good chance the price of fresh products will increase in 2020/2021 due to supply shortages. When farmers invest in the next season, they might ask for more credit to crop protection distributors to balance the loss in 2020. Predictably, crop protection companies will face financial challenges on sales promotion in next season.
In the new normal that will come post COVID-19, the competition in the crop protection industry will transform. Winning during the economic recovery will be more important than ever.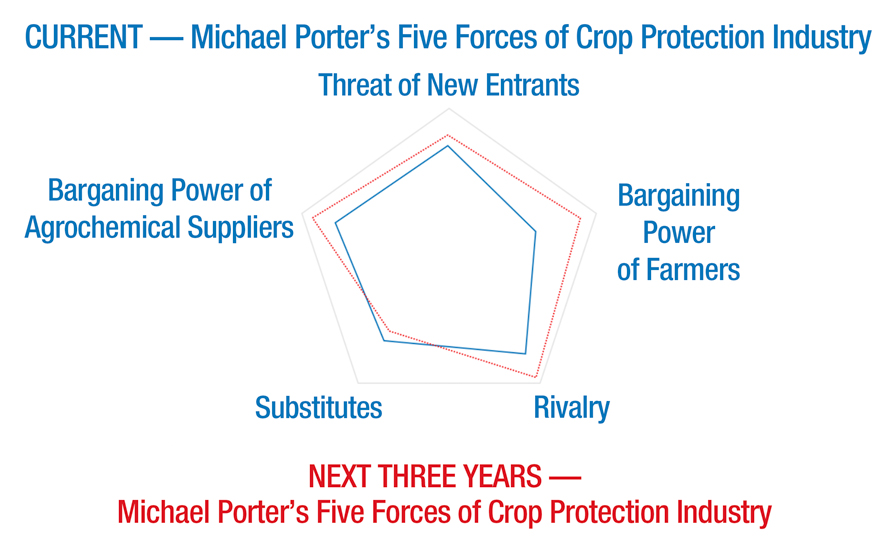 The supply and structure of ag-chem industry has also been challenged by recent M&A activity and the phasing out of many manufacturers following the enforcement of environmental regulations. According to the annual reports of China's stock market-listed agrochemical companies, huge quantities of active ingredients will be available soon. Along with resource integration of raw materials and key intermediates from upstream, only a few manufactures have a chance to dominate market share. The integration of capacity will strengthen the power of suppliers.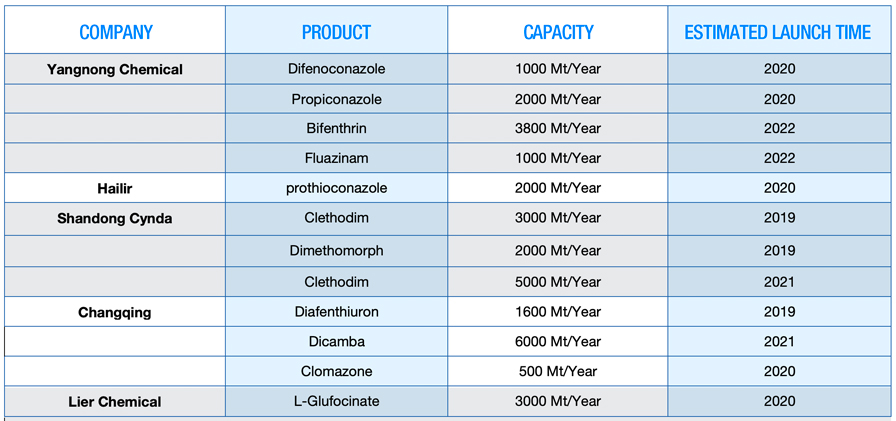 In addition to off-patent active ingredient R&D and production cost-savings, innovation is always hot topic throughout China's agrochemical industry. Aiming at control of herbicide-resistant weeds, KingAgroot in Qingdao is working on providing the most complete solutions — from new compounds to gene-editing breeding in an effort to control resistant weeds in crops around the world.
In the post pandemic era, multinational companies and domestic agrochemical distributors will face greater competition when farmers become "cautious investors." Like Farmers Business Network in the U.S., some new entrants in the global market are trying to make agribusiness more transparent. It will be a new challenge for traditional "seed and agrochemical" programs offered by multinational companies when FBN introduces a new independent breeder base on a farmer-to-farmer (F2F) business model. When economies falter, F2F models could appear in more countries.
In the new normal post-COVID-19, strategic sourcing will be a significant quick-win for alliances among global suppliers including flexible self-manufacturing and R&D.
The traditional sourcing relationship is not efficient without sufficient wisdom by bargain price and ETD / ETA only. It is changing into "Relationship by Strategic Alliance." Corteva Agriscience Shanghai and Chinese company Lier Chemical formed a joint venture in Sichuan, China at the beginning of 2020. Focusing on global farmer's demand, Lier's pyridines chlorination technology and L-Glufocinate production could bring more competitiveness into market. The long-term alliance is attracting more positive views on Lier's growth from Chinese investors.
Moreover, innovation once the sole jurisdiction of multinational companies is moving to smaller suppliers. Fuhua Group is cooperating with Evonik to develop novel formulation portfolio to enhance cutting-edge innovation. The global leading special chemicals enterprise, Envoik, is anxious to work with leading Chinese agrochemical suppliers on R&D and to provide full-service solutions.
On the other hand, the impact of COVID-19 is pushing the global agrochemical industry to have more tenacity. The crop protection market wants distributors to provide a consistent portfolio and service to key farmers. Any gap could cause farmer dissatisfaction. It was the key reason why multinationals have been moving sourcing to India since 2017 to balance the risk of China's production disruptions. Only salesmen who visit farmers everyday can understand how tough the situation has been. Global distributors need more logistic and resource support from the supply chain to keep on-time delivery, to quickly respond to trouble, and strong business continuity management (BCM). Management of risk is a crucial topic for sourcing leaders.
The positive thing is that COVID-19 required smaller operations to transition to digital platforms that allow them to make quicker and more precise decisions. The digital solution for procurement and marketing teams will help crop protection companies save costs and decrease the need for global travel. Home-based, online communication and online audits will become the new normal in a post COVID-19 world. Moreover, digital farming will become more widely applied and will help with scouting crops and anticipation of crop yields. Digital solutions can help companies decrease the cost of logistic management to meet farmers' demands more precisely.
Asia is ahead of the global economy and the return to normal life after COVID-19. Chinese supply chain is helping generic companies, like Nufarm, for cargo delivery in time. Back to the first quarter of 2020, ICAMA (Institute Control of Agrochemical, Ministry of Agriculture, China) mentioned that year-over-year China's import and export of pesticides is recovering from March 2020. The biggest decline was in February following China's lockdown to control COVID-19. Students returning to class and the scheduling of the National People's Congress and the Chinese Political Consultative Conference (NPC&CPPCC) are clear signals that concerns over the COVID-19 pandemic in China are beginning to abate.

However, the COVID-19 is a global impact. There is high degree of uncertainty on the future global demand for pesticides. The continuing reverberations from the COVID-19 pandemic are a drag on China's agrochemical exporting numbers.
China's farmers are preparing to harvest spring wheat and planting corn. The China crop protection market is stable since there were clear forecasts on disease, specifically spodoptera frugiperda. The UAS crop protection meet the demand of social distance during labor intensive planting. Capacities in China are back to normal. Without strong global demand, supply of active ingredients is increasing to maintain the cost of operation.
Herbicides
The clethodim AI price was still high in April due to the low manufacturing rate and shortage of raw materials. There is no room to put more orders into the line of clethodim production. The glyphosate inventory is at low stage. The price of glyphosate was heading to a turning point and expected to increase by the end of April. The corn planting season is coming soon. Nicosulfuron is in extremely short supply. Simply put, there is not enough available inventory in the market. Likewise, the price of 2,4-D is heading up because of low inventory.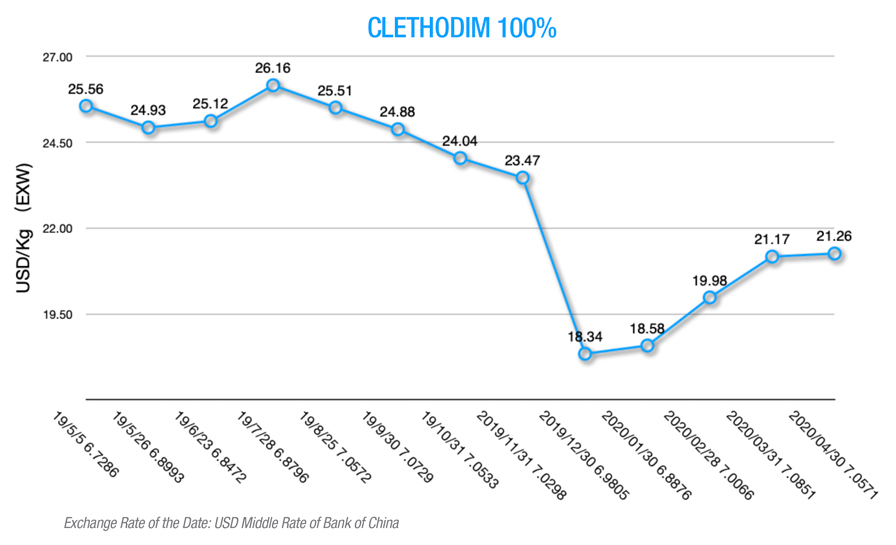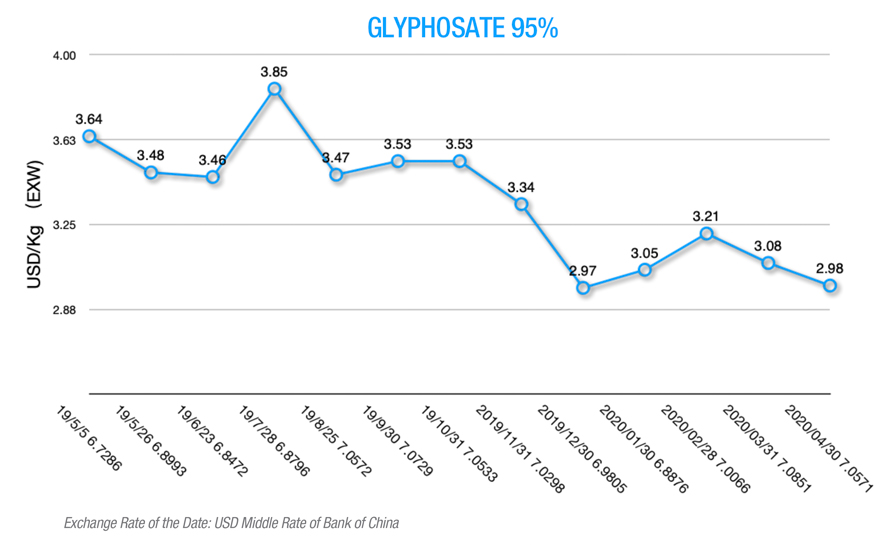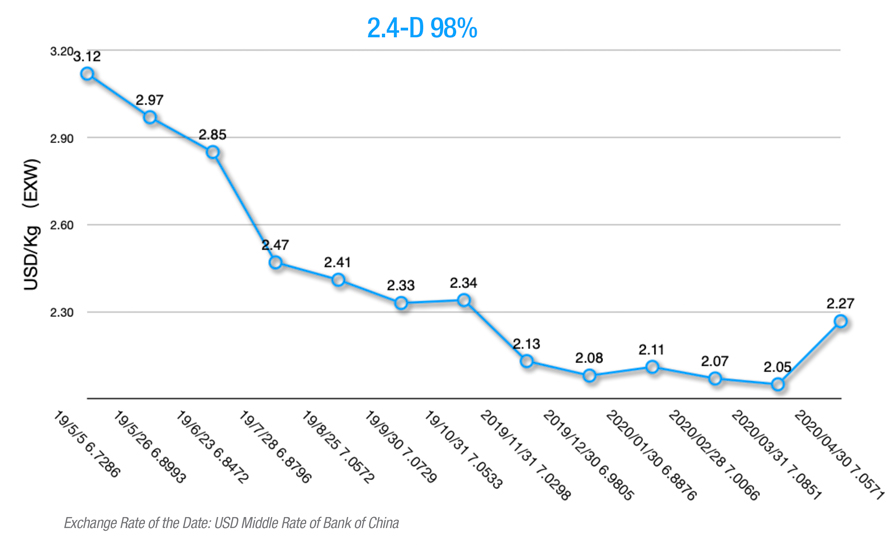 Fungicides
Manufacturers are working to increase production of triazole fungicides. Difenoconazole is facing a supply shortage, which is reflected by price increases. Yangnong and Hailir's new capacity should help limit the triazole shortage.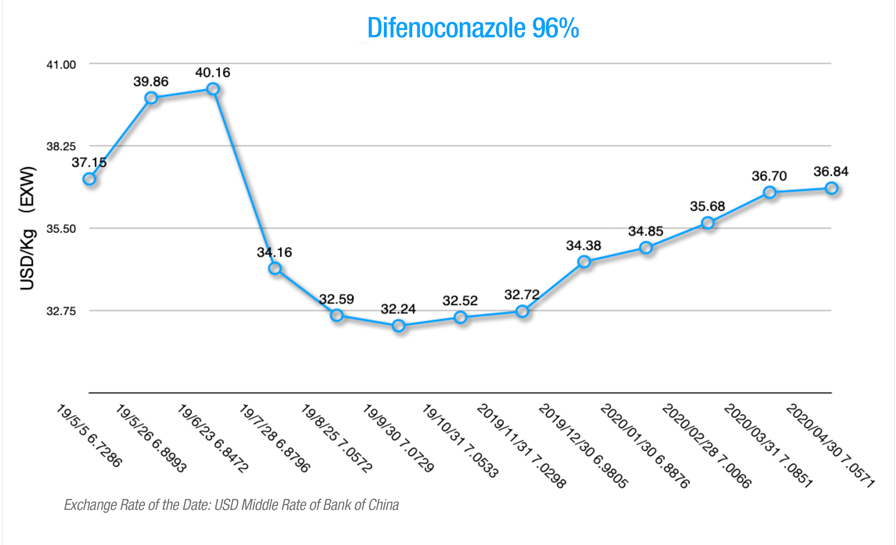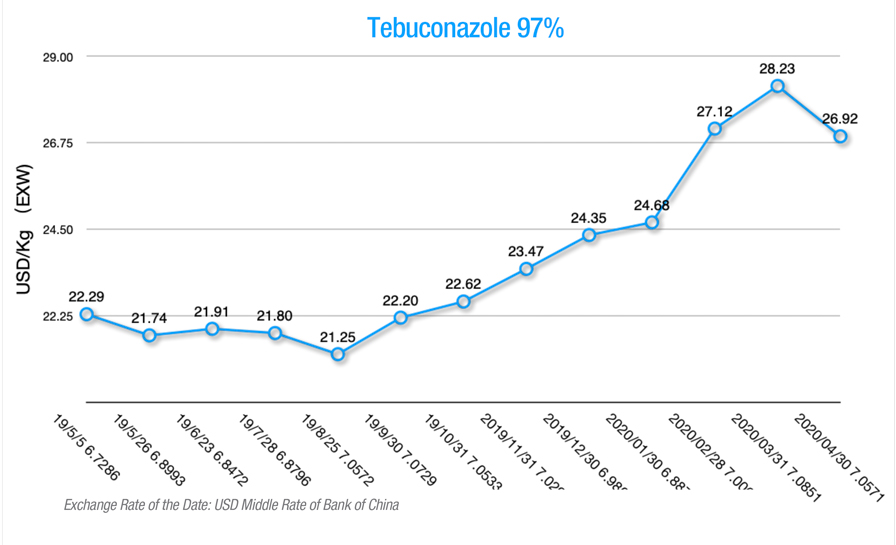 The demand for controlling wheat sharp eyespot was decreasing in the China market in May. The tebuconazole demand was lower than in March. The next tipping point for triazole fungicide demand is dependent on rice sheath blight and rice blast in June.
The suppliers of pyraclostrobin will  face constant competition. The competitive advantage will be lower production cost when the market capacity surpasses demand. During the COVID-19 pandemic, the import of raw materials causes an increase in the cost of trifloxystrobin. Domestic demand decreased for prochloraz driving the price down.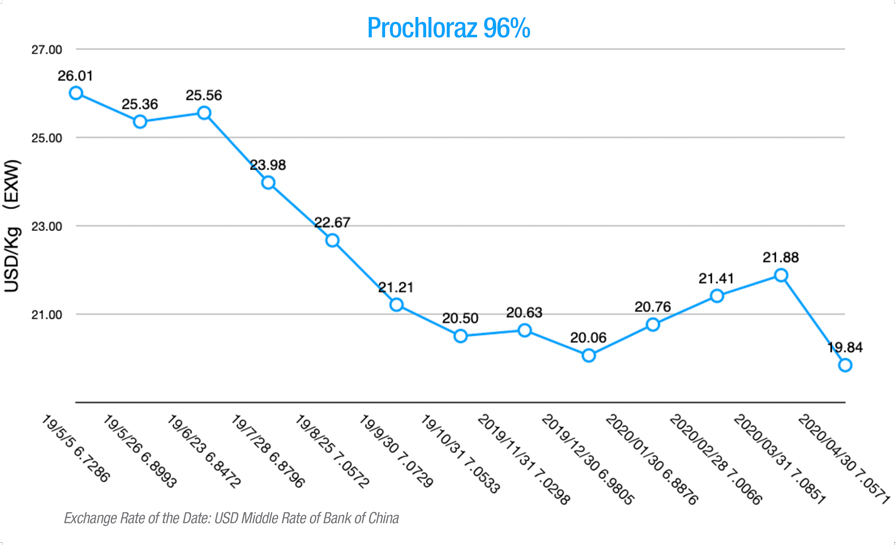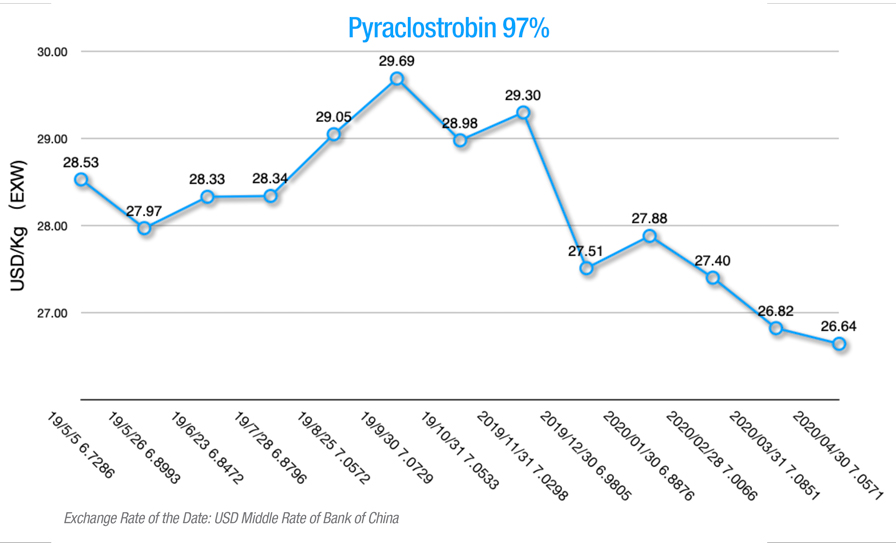 Insecticides
The potential risk of Fall Army Worm (Spodoptera Frugiperda) is still high in China. Multinational companies like ADAMA are promoting 15% emamectin benzoate + indoxacarb SC to combat Fall Army Worm in China. The requests for emamectin benzoate are primarily coming from overseas. These factors led to stable price of emamectin benzoate from China.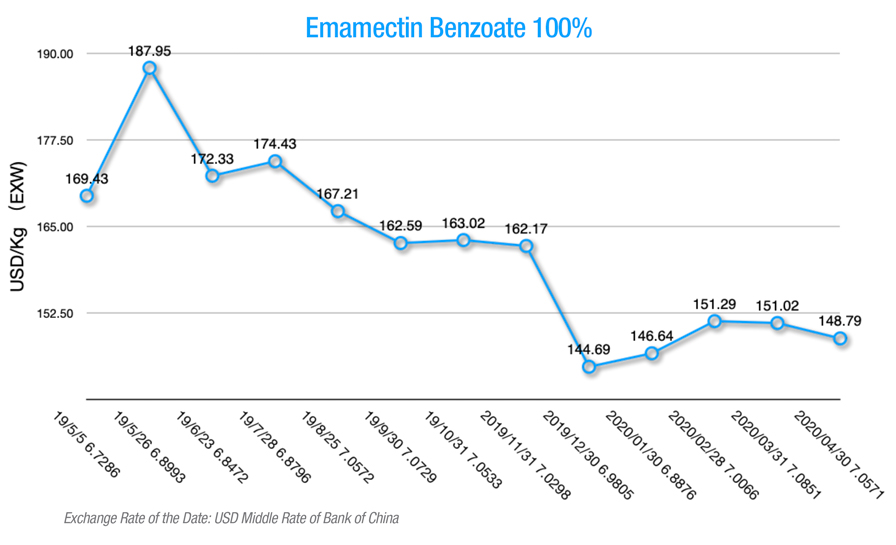 Demand of neonicotinoid pesticides from overseas is weak. Combined with COVID-19 impact, inventory levels throughout the market are high. The prices of imidacloprid and acetamiprid are stable at low levels. Thiamethoxam is still affected by the intermediate supply from Hubei province China with unstable operation rate.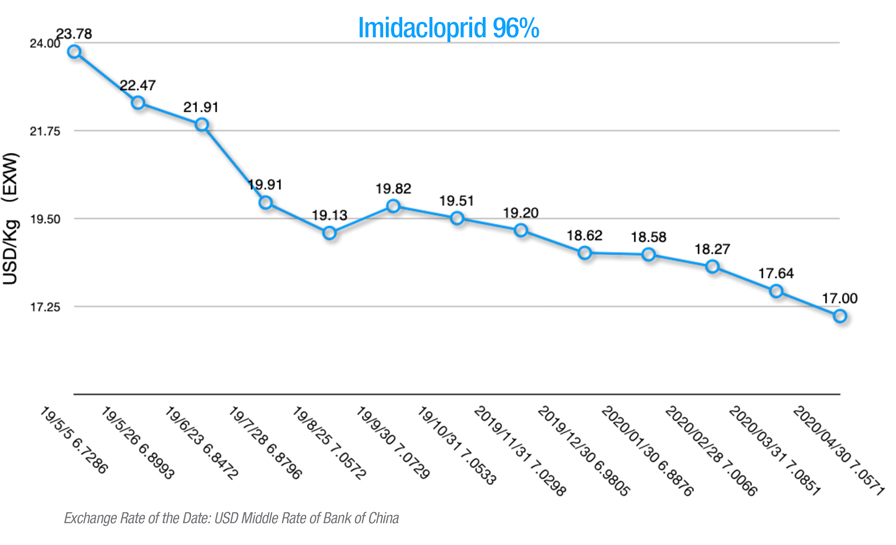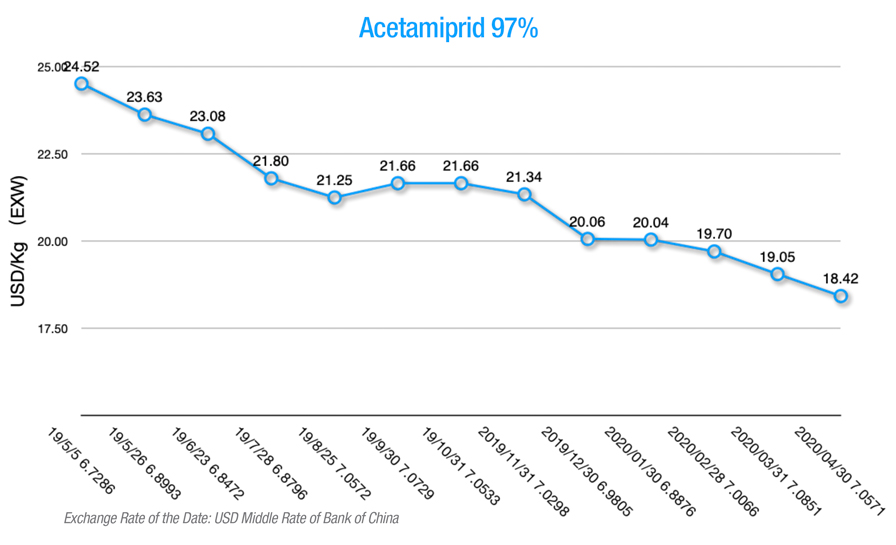 India is also dealing with the COVID-19 pandemic. The complexities created by social distance rules make the supply chain for pyrethroid insecticide more uncertain. The quotation of pyrethroid insecticide keeps on increasing in China.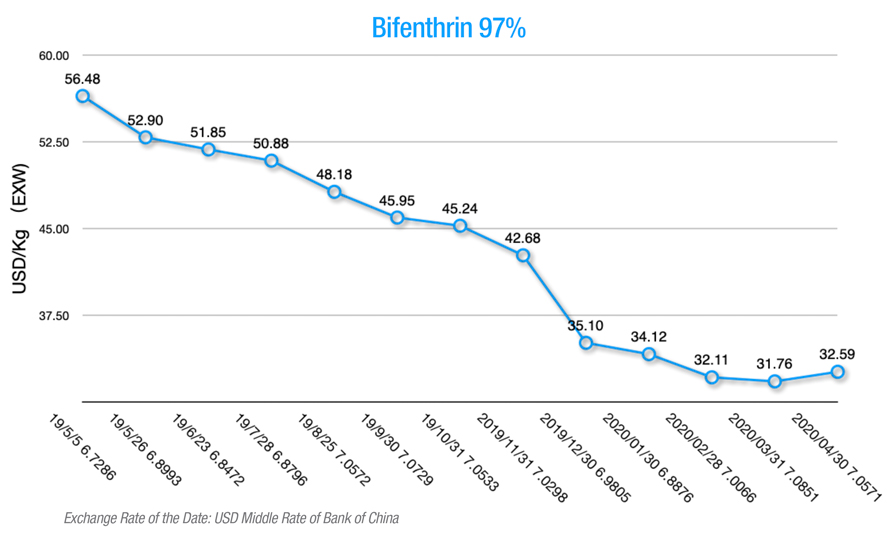 All in all, global suppliers and distributors need to consider a new strategy — a united global sourcing. The COVID-19 pandemic pushed sourcing teams to work with the marketing division toward the same goal — market penetration using novel characteristics of formulations and cost saving. COVID-19 has taught the industry that there could be capacity concerns when countries fear risk from some, as yet, unknown global crisis, and companies must learn to adapt to this new normal. Markets will balance the relocation of global resources to create true value to society. Moreover, ag tech, precision farming, and digital farming could be potential growth points to help decrease the amount of time it takes to recover. Clever entrepreneurs in agribusiness will make right decisions.